On March 19, 2018, Dr. Traub of Tampa Pain Relief Centers gave an informative educational lecture for patients suffering from Spinal Stenosis. The event was sponsored by Vertiflex at Hyatt Place in Tampa, Florida.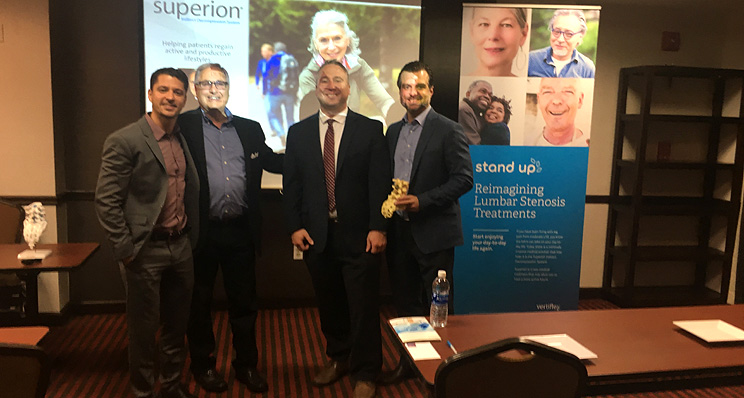 Left to right: Nick Villarreal from Vertiflex, Dr. Traub of Tampa Pain Relief Centers, Ryan Mullen, Tampa Marketing Representative and E.J. Amo from Vertiflex
The topic of this seminar was provide valuable information about an alternative treatment for pain relief without surgery, for patients who either want to avoid undergoing a major procedure, or who can't withstand the demanding process of traditional spinal surgery.
This innovative treatment method is known as the Superion® Indirect Compression System, which is a tiny titanium device delivered through a tube the size of a dime. The implant is designed to keep your spine positioned so that when you stand upright the nerves in your back will not be pinched, thereby eliminating what would be the resulting back and leg pain.
Dr. Traub gave a successful lecture with Q&A for patients who want to know more about this alternative treatment for relief from Spinal Stenosis pain.
If you suffer from Spinal Stenosis and want more information about this effective treatment alternative for your pain, contact Tampa Pain Relief Centers for more information.

About Dr. Traub
Dr. Todd S. Traub has extensive clinical experience with the insertion and management of trial and permanent spinal cord stimulation systems for the treatment of:
chronic back pain
post-laminectomy syndromes
sympathetic mediated pain
complex regional pain syndrome/reflex sympathetic dystrophy
chronic pancreatitis pain
phantom limb pain
He has extensive experience with:
ultrasound-guided nerve procedures for interventional pain medicine
regional anesthesia and neuroablative techniques
Dr. Traub currently pactices at Tampa Pain Relief Centers LifeHope clinic, helping to relieve the suffering of patients with Spinal Stenosis and other chronic pain issues.