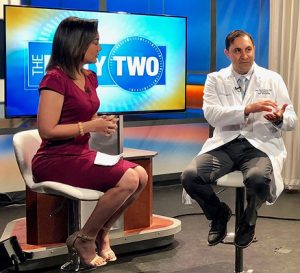 If chronic pain is ruling your life, tune in to WFTV Orlando News for an enlightening interview with Dr. Ramos, discussing an innovative alternative for relief from your pain WITHOUT medication.
Air Date: March 29, 2018
Time: 12:56 pm EDT
Network: ABC
If you're experiencing pain in your arms, legs, lower back or neck, you definitely don't want to miss this WFTV News interview with the only trained interventionalist who can perform this alternative treatment method in Orlando, Florida.
Dr. Ramos is an expert pain management physician at Central Florida Pain Relief Centers, where our doctors are setting new standards in pain management and restoring a greater quality of life for patients with chronic pain.
About Dr. Ramos
Dr. Rick Nieves-Ramos is double board-certified with a sub-specialty certification in Pain Medicine and specialty certification in Anesthesiology by the American Board of Medical Specialties. He has worked with world-renowned experts in lower back pain therapy, and technique innovators at the University of Miami, and has completed an ACGME accredited fellowship in Pain Medicine at Cedars of Sinai Medical Center in Los Angeles, where he served as an attending Anesthesiologist.
Dr. Ramos also participates in new product development for Spinal Cord Stimulation devices. Dr. Ramos is a native of Orlando, Florida, and currently practices and Florida Pain Relief Centers' Altamonte Springs location.