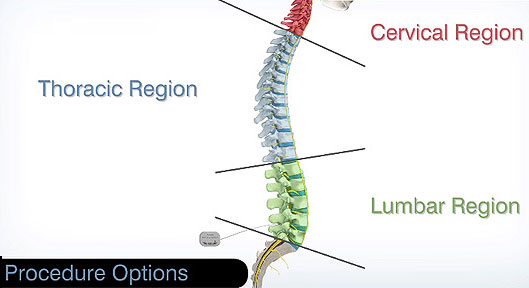 When more conservative pain management therapies have failed, Neurostimulation therapy (aka Spinal Cord Stimulation, or SCS) is often recommended for relief from chronic back pain. The SCS treatment has helped thousands of people significantly reduce their pain so they may return to their normal lifestyle activities.
The Spinal Cord Stimulator is an implantable device that interrupts pain signals before they reach the brain, replacing the pain with more pleasant sensations. The procedure is commonly recommended for patients who are suffering from Failed Back Surgery Syndrome (FBSS) resulting from previous spinal surgery.
The SCS treatment option affords many benefits to patients who undergo this procedure:
Patients start with a temporary or "trial" stimulator to determine optimal placement and level of stimulation prior to implanting the permanent device
The implant procedure is performed on an outpatient basis
SCS is minimally invasive, and requires little recovery time
Patients can modify the level of stimulation via remote control
The procedure is reversible
Spinal Cord Stimulation is used to treat various types of back pain, including, but not limited to:
Chronic back, leg or arm pain
Pain resulting from failed back surgery syndrome
Complex regional pain syndrome
Arachnoiditis
MS or spinal cord injuries
Spinal cord stimulation offers a safe and relatively simple alternative for patients who are unable to withstand repeat surgeries. The device has been found to be a powerful tool for patients to manage their daily pain.
Want to Know if Spinal Cord Stimulation Can Help Your Chronic Back Pain?

Start by taking our FREE BACK & NECK QUIZ to assess how spine pain impacts your daily activities. See what factors may play a role in your pain and receive recommendations for follow-up steps.
When you're ready to consult with a board-certified pain management physician about your symptoms and what treatment options are available to ease your pain, schedule an appointment at Tampa Pain Relief Centers.  Our highly skilled physicians will assess your individual needs to more effectively relieve your chronic pain and restore your quality of life.
If you are tired of living with chronic pain and want more information about options for minimizing or eliminating your suffering, contact Tampa Pain Relief Centers today at (813) 872-4492 or click the button below to set up a consultation at one of our clinics online.