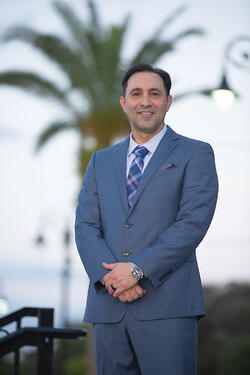 Florida Pain Relief Centers is proud to have an unparalleled roster of compassionate, expert pain management physicians who provide quality care for our patients.
Dr. Rick Nieves Ramos, Anesthesia Pain Medicine, is among our staff of exemplary providers, and we are please to announce that Dr. Ramos has been named as one of Orlando's Doctors of the Year by Orlando Style Magazine!
The objective of the Doctors of the Year distinction is to "bring visibility to professionals who exhibit excellence, integrity, client service and high standards that have made them preeminent and highly successful."
Dr. Ramos has been selected among those recognized because of his tireless dedication to his patients, his profession, and ongoing advancements in education and innovation in fields of pain medicine and anesthesiology.
Click here to read Dr. Ramos' full feature at OrlandoStyleMagazine.com.
About "Orlando's Doctors of the Year"
According to the Orlando Style Magazine web site, physicians recognized by this feature are those who have established themselves at the top of their profession and are the 'elite;' the very best of the best.
The popular Orlando publication further explains…
"When seeking perfection, we search for the professional who has made it his or her life goal to excel within a field of specialization through many years of study, dedication and determination, continually challenging themselves to advance their knowledge; these brilliant human beings not only save lives but also enrich their communities with a skill set second to none.
Beyond this and in order to stay abreast of the latest, almost daily changing medical advancements, the 'elite' undergo rigorous maintenance, updating through seminars, conferences and advanced studies to keep current with new technology and procedures."
Physicians honored by this recognition are chosen by their peers, and must be reputable, Board Certified, and extremely well recognized within the community.
Dr. Ramos not only meets but exceeds all necessary criteria for such recognition, and Florida Pain Relief Centers is honored to include him as one of our expert staff of pain management providers!

About Dr. Rick Nieves-Ramos, Anesthesia Pain Medicine
Dr. Ramos is double board-certified with a sub-specialty certification in Pain Medicine and specialty certification in Anesthesiology by the American Board of Medical Specialties. He has worked with world-renowned experts in lower back pain therapy, and technique innovators at the University of Miami, and has completed an ACGME accredited fellowship in Pain Medicine at Cedars of Sinai Medical Center in Los Angeles, where he served as an attending Anesthesiologist.
Dr. Ramos also participates in new product development for Spinal Cord Stimulation devices.
Dr. Ramos is a native of Orlando, Florida, and currently practices at Florida Pain Relief Centers' Altamonte Springs location, where our doctors are setting new standards in pain management and restoring a greater quality of life for patients with chronic pain.
Do you suffer from back pain?
Take our FREE BACK & NECK QUIZ to assess how spine pain impacts your daily activities. See what factors may play a role in your spine pain and receive recommendations for follow-up steps: