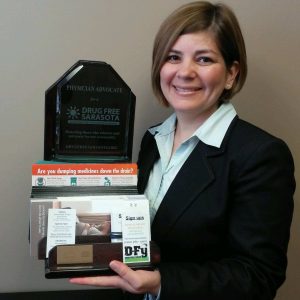 Sarasota PRC's own Dr. Diaz-Ramirez has demonstrated exemplary diligence in the effort to spread timely information on the most pressing issues of prescription drug abuse issues occurring in our community.
In May 2017, Governor Rick Scott declared Florida's opioid epidemic a statewide emergency. In direct response to this growing problem, Dr. Diaz-Ramirez and other such providers have taken action to educate patients in a highly passive but powerful campaign to combat the widespread misuse of prescription medications.
This program is comprised of two core components:
Waiting room literature module
Informative tear sheets, which are given to patients in the office or waiting room while they wait to see their physician.
These materials were developed to raise awareness of the following:
The county's DRUG FREE YOUTH Program

Information on Narcan
The Marchman Act
How to recognize overdose symptoms
The latest RX Use and Misuse campaign
Drop Box disposal location information
The Drug Free Sarasota initiative combines the indispensable input of the recovery & addiction community with the knowledge base and expertise of Sarasota physicians (both opioid and non-opioid prescribers) to produce the best balance of information for Sarasota county.
Sarasota Pain Relief Centers congratulates Dr. Diaz-Ramirez on her award and greatly appreciates her tireless dedication to achieving the objective of a drug-free Sarasota.
About Dr. Myrdalis Diaz-Ramirez
Dr. Diaz-Ramirez is a board-certified, fellowship-trained pain medicine physician and anesthesiologist with more than a decade of experience in the field. She is a clinical professor at Florida State University College of Medicine, has co-authored and edited multiple book chapters related to pain medicine, and she has been awarded "Top Doctor" in her field by her peers for the past five consecutive years. Dr. Diaz-Ramirez is bilingual in English and Spanish.
Dr. Diaz-Ramirez practices at Sarasota Pain Relief Centers' Central Sarasota location, specializing in Anesthesia/Pain Medicine.
Certification(s)
Board certified in pain medicine
Board certified in anesthesiology
Interventional & multidisciplinary pain medicine
---
At Sarasota Pain Relief Centers, relieving your pain and ensuring your comfort are our top priorities. Life can be enjoyable, not just bearable. Let us relieve your pain and restore your quality of life. 
If you are tired of living with chronic pain and want more information about our minimally invasive, proven procedures and treatments for minimizing or eliminating your suffering, call us today at 941-363-9400 or click the button below to set up a consultation.

---