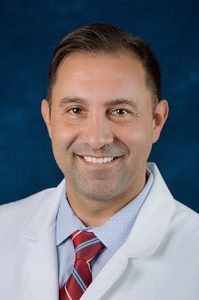 Dr. Rick Nieves-Ramos  is double board certified with a sub-specialty certification in Pain Medicine and specialty certification in Anesthesiology by the American Board of Medical Specialties.
Dr Ramos was born and raised in Orlando. His Undergraduate studies were completed at the University of Central Florida, and he attended medical school at the Ohio State University.
Dr. Ramos has worked with world-renowned experts in lower back pain therapy, and technique innovators at the University of Miami, and completed an ACGME (American College of Graduate Medical Education) accredited fellowship in Pain Medicine at Cedars of Sinai Medical Center in Los Angeles where he served as an attending Anesthesiologist.
Additionally, Dr. Ramos has presented at National Conferences for:
The North American Neuromodulation Society
The American Society of Anesthesiology on implantable intrathecal drug delivery placement
Dr. Ramos also participates in new product development for Spinal Cord Stimulation devices, and is the first and only trained interventionalist that can perform Dorsal Root Ganglion Stimulation here in Orlando.
He is currently an Associate Professor at the UCF College of Medicine and performs Grand rounds in many topics for Pain Management, teaching students and physicians alike.
Rest assured, when being treated by Dr. Ramos, his personable bedside manner blended with his knowledge and expertise will ensure that you get the best care you deserve.
If you are tired of living with chronic pain and want more information on options for minimizing or eliminating your suffering, call us today at 407.478.1510 (Altamonte Springs) or 407.649.8707 (Downtown Orlando) to schedule a consultation, or click the button below to set up a consultation at one of our clinics.