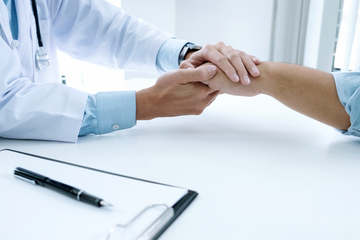 If you've never consulted with a pain management physician for relief from chronic pain, you may think all pain doctors are alike. But when it comes to effective treatment for your suffering, nothing could be farther from the truth.
There are thousands of pain specialists throughout the United States, many of whom are board-certified for one or more specialties related to pain conditions. So, when it's time to seek help for your individual pain situation, how do you know what to look for?
In short, you'll definitely want to start with a pain physician who is board-certified in pain medicine / interventional pain management. Additional certifications such as anesthesiology or physical medicine and rehabilitation will also serve to provide greater benefit for the patient.
The more experience and expertise a pain physician has, the greater the potential for accurately diagnosing pain conditions, even in cases when determining the source of pain may be challenging.
In addition to education and background, pain sufferers want to interact with a pain physician who is compassionate, thorough and truly listens to their patients. One of the biggest complaints among patients is doctors who rush through an appointment, leaving little time for questions or concerns. Being in pain is difficult enough; visiting a doctor who exhibits little or no empathy or patience only adds to the discomfort you already feel. It is important to consult with a physician who genuinely cares about your pain and works with you to overcome the effects of your condition(s).
Get to Know our Pain Management Physicians
At Florida Pain Relief Centers, our pain management physicians are experienced, board-certified pain physicians who are dedicated to treating your pain AND treating you right. We understand that you are more than just your pain, and we want to treat the whole you. Our mission is to provide personalized, compassionate care for each individual patient, while working diligently to determine the source of your pain and provide the very best treatment options available for relief.

Let us introduce our dedicated, expert pain management physicians…
Our Florida pain experts are board-certified and standing by to help relieve your suffering. Click on a physician name to learn more about each doctor:
TAMPA
SARASOTA
CENTRAL FLORIDA
JACKSONVILLE
SPACE COAST
When you need to seek help for your pain from an expert pain management specialist, (not a disinterested doctor who writes out a prescription for pain medications and whisks you out the door,) be sure to consider expertise, experience and compassion as non-negotiables in seeking the right pain physician for you.
Please feel to reach out to any one of our Florida pain management clinics to schedule a consultation with one of our dedicated, compassionate pain physicians.
Interventional Pain Management for the Treatment of Chronic Pain Conditions

At Florida Pain Relief Centers, we provide pain relief by employing advanced treatment protocols performed by skilled surgeons and staff, utilizing the most innovative technologies in interventional pain medicine.
Whatever the source of your chronic pain, we encourage you to place your pain relief treatment in the hands of our pain relief specialists who want to relieve your pain and restore your quality of life.
To find out how we can provide relief for your chronic pain, call Florida Pain Relief Centers today at 800.215.0029 to schedule a consultation, or click the button below to set up an appointment online at one of our clinic locations so we can discuss options for helping return you to a more pain-free lifestyle.